Lawn Renovation & Repair Services in the Philadelphia Metro Area
Is your lawn looking dry, patchy, or even dead in spots? It's time to consider our expert lawn repair and renovation services. At Greenskeeper Professional Lawn Care Service, Inc, we specialize in revitalizing tired, damaged lawns, transforming them into lush, green outdoor havens. Whether your grass is struggling due to drought, disease, or simply showing its age, our tailored solutions will breathe new life into your landscape. Say goodbye to dry or dead patches and hello to a vibrant, healthy lawn that enhances your property's beauty and value.
Signs That Your Lawn Requires Repair or Replacement Services
When your lawn displays multiple signs of decline, it may be time to consider repair or replacement services to restore its vitality and aesthetics. Luckily with Greenskeeper Professional Lawn Care Service, Inc and our 41, you can trust that your lawn will be as good as new in no time.
Signs you may need lawn renovation or repair services include:
Brown and Bare Patches: Widespread brown or bare areas with no signs of grass growth.
Sparse and Thinning Grass: A lawn that appears thin, with noticeable gaps between grass blades.
Soil Compaction: Extremely hard and compacted soil that inhibits water and nutrient absorption.
Persistent Weeds: An abundance of persistent weeds that dominate the lawn.
No Response to Watering: Grass that does not recover or green up despite regular watering.
Excessive Thatch: A layer of thatch that is too thick and prevents water and nutrients from reaching the soil.
Disease or Pest Damage: Extensive damage from diseases or pests that cannot be effectively controlled.
Invasive Species: Invasion of undesirable grass or plants that has taken over the lawn.
Erosion and Soil Problems: Soil erosion, frequent flooding, or severe soil quality issues.
Overall Decline: A general decline in the lawn's health, appearance, and vigor despite efforts to revive it.
Call today to schedule an inspection!
How to Make Sure Your New Yard Thrives
After investing in a new lawn, maintaining it is crucial to ensure its long-term health and beauty. Proper maintenance not only preserves your investment but also enhances your outdoor space. Here are some key tips to keep your new lawn in tip-top shape:
Regular Watering: Adequate and consistent watering is essential, especially during the establishment phase.
Proper Mowing: Maintain the correct grass height to encourage healthy growth and prevent stress on your lawn.
Fertilization: Provide essential nutrients through fertilization to promote lush, vibrant grass.
Weed Control: Prevent weeds from taking hold by implementing a weed control program.
Aeration: Periodic aeration ensures proper airflow and nutrient absorption in the soil.
Disease and Pest Management: Keep an eye out for signs of disease or pest infestations and address them promptly.
Overseeding: Periodic overseeding helps maintain a dense and resilient lawn.
By following these steps, you'll not only protect your new lawn investment but also enjoy a lush, thriving outdoor space for years to come.
Best Watering Practices for a New Grass
Unlike a typical watering schedule, new grass needs more frequent watering. Remember, rain can count as water if it is significant enough.
Mist It – The first few days after seeding, mist your grass four times a day to keep the top ¼ inch of the seedbed moist without oversaturating.
Water It – Then water every 3-4 days for 20-30 minutes
Keep It Wet – It is important to keep the area from drying out to support germination. We recommend watering for 5-10 minutes on all in-between days.
Don't Over Water – Try not to let the newly seeded area puddle or wash away. Once the grass grows to be about 2 inches, you can resume longer, less frequent waterings.
Image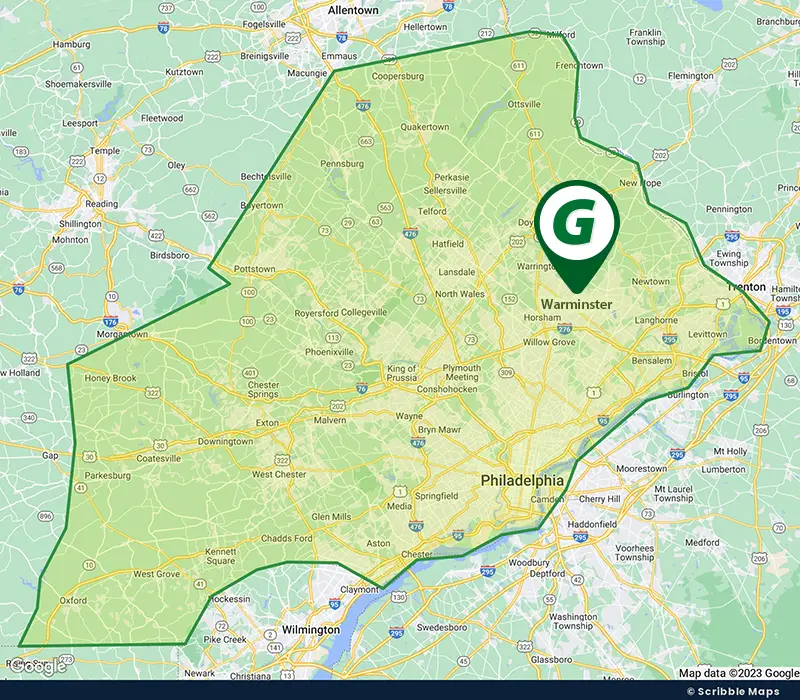 Areas We Service in the Philadelphia Metro Area
As a locally owned lawn care company, we're proud to service all counties that surround Philadelphia. Check out each page to find your city.