Image
The Best Lawn Care Company in Doylestown
Lawn Care in Doylestown
There's nothing like spending time with your family and friends in your lush, beautiful yard. Taking care of your lawn requires a lot of upkeep and knowledge that most homeowners don't have time for—that's where we come in! Our expert lawn care technicians at Greenskeeper have over 41 years of experience making your yard everything you dreamed of. 
Our comprehensive lawn care services in Doylestown include:
Weed Control
Lawn Fertilization
Grub Control
Insect Control
Mosquito Control
Aeration and Overseeding
Lawn Renovation and Repair
Your Satisfaction is Guaranteed
With Greenskeeper Professional Lawn Care Service, Inc, you can trust that you will always be happy with our services. If, for whatever reason, you're unsatisfied, all you need to do is give us a call, and we will re-treat at no additional cost to you. That's the Greenskeeper way!
Image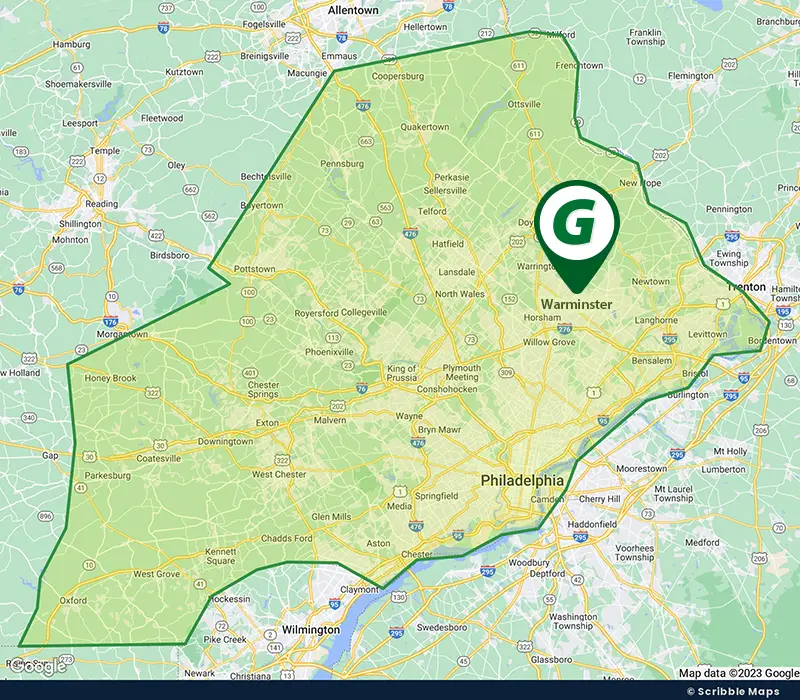 Residential Lawn Care Services in Doylestown
At Greenskeeper, we pride ourselves on making your lawn something you can be proud of. This is why our team of expert lawn technicians provides you with comprehensive care! Every lawn is different, which is why we customize our treatment plan to your lawn's specific needs. From there, we will:
Treat your lawn every 5-6 weeks.
Use eco-friendly products that are safe for your family, pets, and the environment.
Make sure that, over time, your lawn is free of weeds, grubs, bugs, and other aspects that can harm your grass.
Lawn Aeration & Seeding in Doylestown
Over time, the grass in your lawn can become impacted. This is natural as heat, foot traffic, wildlife, and other factors can destroy your grass' roots. However, when this happens, your lawn is unable to receive the proper nutrients it needs to grow and defend itself from pests and weeds. That's where Greenskeeper Professional Lawn Care Service, Inc comes in! We will provide core aeration in Doylestown, which is the process of removing plugs of 4-4.5 inches so your grass can breathe again. 
If you notice signs of lawn compaction, you may need aeration in Doylestown:
Pooling Water
Thinning Grass
Increased Weed Growth
Yellowing Grass
Hard, Dense Soil
Difficulty Penetrating Soil
Poor Aeration
Surface Runoff
Increased Lawn Stress
Uneven Lawn Surface
Overseeding to Promote Grass Growth
When you aerate your lawn, you need to complement the service with overseeding. Overseeding is the process of laying new seed into your lawn without completely tearing up your existing turf. Seeding your grass will promote new growth for the following seasons, bringing you that green, lush grass you deserve.
Insect & Mosquito Control in Doylestown
At Greenskeeper Professional Lawn Care Service, Inc, we understand wanting to spend time in your yard without the annoyance of bugs ruining your fun. That's why we offer our Bug Barrier package, which combines all insect control as well as mosquito control in Doylestown! This way, you don't have to schedule multiple services to rid your yard of mosquitoes, ants, flies, or any other bug that's bothering you. Our insect and mosquito control services begin around Memorial Day, end around Labor Day, and include treatments every 6-8 weeks in between. Better yet, all of our treatments are completely safe for your family and pets!
Our insect and mosquito control service targets:
Flies
Beetles
Ants
Tree Boring Insects
Fleas
Ticks
Mosquitoes
Cicadas
Spotted Lanternfly
Aphids
And more