Image
The Best Lawn Care Company in New Hope
Lawn Care in New Hope
At Greenskeeper Professional Lawn Care Service, Inc, we take pride in being your trusted local lawn care services provider with over 41 years of experience. Our commitment to excellence shines through in every service we offer. When you choose us, you're not just getting a lawn service—you're getting a partner dedicated to making your lawn thrive. Discover the difference of our family-friendly and pet-friendly treatments backed by a 100% satisfaction guarantee. We offer Saturday appointments for your convenience and provide free re-treatments as needed. Your lawn's health and your satisfaction are our top priorities.
Explore our comprehensive range of lawn care services in New Hope:
Lawn Care: Maintain the lushness and vibrancy of your lawn year-round.
Lawn Fertilization: Tailored fertilization treatments to keep your grass green and thriving.
Weed Control: Effective solutions to eliminate unsightly weeds and restore your lawn's pristine appearance.
Grub Control: Protect your grass from destructive grubs and prevent damage.
Insect Control: Targeted methods to shield your lawn from pests, ensuring your outdoor space remains enjoyable.
Aeration and Seeding: Promote healthier turf with quick results and long-lasting treatments.
Lawn Renovation and Repair: Restore your lawn to its full beauty and potential.
Image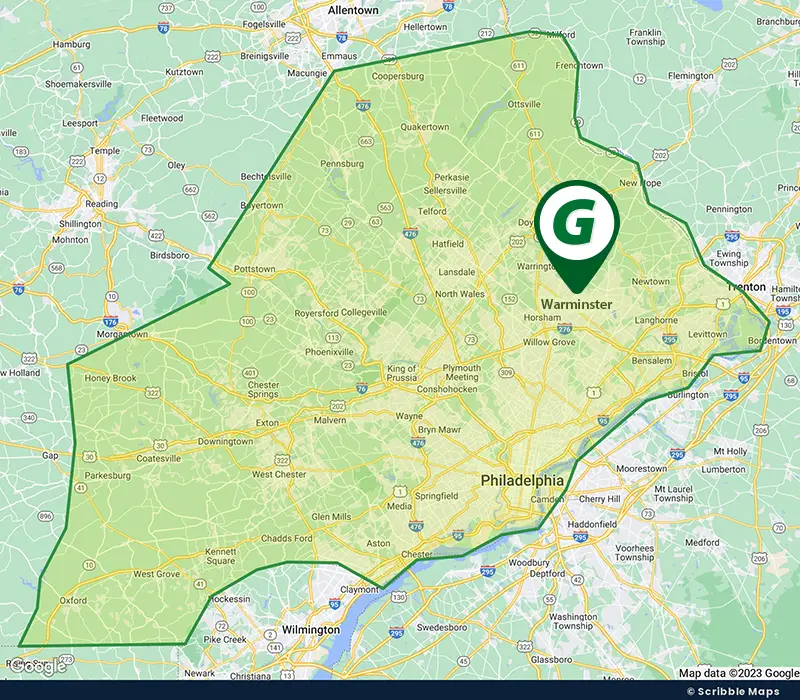 Residential Lawn Care Services in New Hope
Professional lawn care is crucial for every lawn because it brings expertise, tailored treatments, and consistency. With Greenskeeper, our trained specialists understand the specific requirements of your grass, soil, and climate, ensuring optimal care.
When you trust Greenskeeper Professional Lawn Care Service, Inc with your lawn care in New Hope, you'll get: 
Customized Treatment Plans: We start with a thorough lawn inspection to address brown spots, thinning grass, and unique lawn issues.
Regular Treatments: Your lawn receives care every 5-6 weeks with 6 treatments a year.
Organic-Based Turf Plant Fertilizer: We use eco-friendly, organic-based fertilizer for a healthy lawn.
Comprehensive Care: Our services cover lawn fertilization, weed control, grub control, insect control, and limestone treatments.
Pet-Friendly Lawn Care: We prioritize your pets' safety, ensuring our treatments are pet-friendly.
Lawn Aeration & Seeding in New Hope
Revitalize your lawn's health and beauty with aeration and seeding services in New Hope. By investing in these essential treatments, you'll enjoy a thicker, greener, and more resilient lawn that enhances your outdoor space's aesthetics and overall value.
The benefits of aeration in New Hope include:
Improved Soil Aeration: Allows better oxygen, nutrient, and water penetration to the root zone.
Enhanced Root Growth: Promotes deeper and stronger root development.
Thatch Reduction: Helps break down and reduce excess thatch buildup.
Increased Nutrient Absorption: Allows roots to access essential nutrients more effectively.
Enhanced Drought Tolerance: Helps your lawn withstand dry periods.
Reduced Soil Compaction: Loosens compacted soil, improving overall soil structure.
Improved Lawn Health: Leads to a thicker, healthier, and more vibrant lawn.
Enhanced Pest and Disease Resistance: Creates a more resilient turf.
With 41 years of experience, we're your lawn aeration experts. We tailor treatments to your yard's unique needs, ensuring it thrives. Choose Greenskeeper Professional Lawn Care Service, Inc for aeration and seeding, and enjoy a vibrant, resilient lawn once more.
Insect & Mosquito Control in New Hope
There's nothing like spending time outside and not having to worry about bugs potentially ruining your fun or causing health risks to your loved ones. That's why we offer our Bug Barrier package, complete with both insect control and mosquito control in New Hope. With our Bug Barrier package, you can expect treatment beginning around Memorial Day and ending around Labor Day, each treatment lasting between 6-8 weeks, depending on the weather. From there, all you have to do is sit back and enjoy a bug-free yard!
Our insect and mosquito control in New Hope also includes coverage against:
Flies
Beetles
Ants
Tree Boring Insects
Fleas
Ticks
Mosquitoes
Cicadas
Spotted Lanternfly
Aphids
And more