Image
The Best Lawn Care Company in Abington
Lawn Care in Abington
For over 41 years, Greenskeeper Lawn Service has been the go-to name for superior lawn care in Abington. Our commitment to excellence extends to every service we offer:
Lawn Care: Keep your lawn healthy and vibrant with our expert care.
Lawn Fertilization: Nourish your grass for a lush, green landscape.
Weed Control: Say goodbye to unwanted intruders in your beautiful lawn.
Grub Control: Protect your turf from destructive grubs.
Insect Control: Safeguard your outdoor space from pesky insects.
Aeration and Seeding: Promote robust root growth and thicker grass.
Lawn Renovation and Repair: Bring your dead lawn back to life.
Experience family-friendly and pet-friendly treatments, a 100% satisfaction guarantee, convenient Saturday servicing, and the peace of mind of free re-treatments when needed. Choose Greenskeeper Professional Lawn Care Service, Inc for a lawn that's healthy, beautiful, and well-cared for in Abington, PA!
Image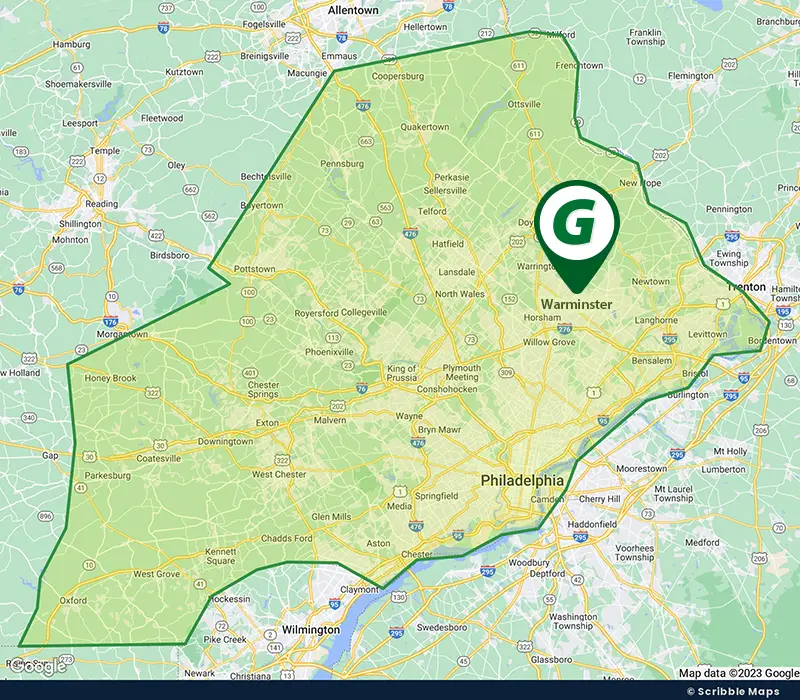 Residential Lawn Care in Abington
At Greenskeeper Professional Lawn Care Service, Inc, we pride ourselves on offering top-tier lawn care that goes above and beyond. Here's what sets our services in Abington apart:
Customized Treatment Plans: Our environmentally friendly lawn care starts with a comprehensive lawn inspection, addressing specific issues like brown spots and thinning grass.
Regular Treatments: With 6 treatments annually, your lawn benefits from our expert care every 5-6 weeks.
Organic-Based Turf Plant Fertilizer: We use eco-friendly, organic-based fertilizer to promote a vibrant and healthy lawn.
Comprehensive Care: Our services encompass lawn fertilization, weed control, grub control, insect control, and limestone treatments.
Pet-Friendly Lawn Care: We prioritize the safety of your beloved pets, ensuring our treatments are safe for them.
With Greenskeeper Professional Lawn Care Service, Inc, it's not just about a lawn care technician; it's about a partnership in achieving a beautiful, thriving outdoor space. Experience the best in family-friendly and pet-friendly lawn care, addressing all your lawn's needs, from health to aesthetics.
Lawn Aeration and Seeding in Abington
You might need aeration and seeding to alleviate soil compaction, which can inhibit water and nutrient absorption, leading to poor grass growth and a lackluster lawn. Additionally, overseeding helps fill in thin areas, enhancing your lawn's density and overall visual appeal. Lucky for you, Greenskeeper is here to help!
We offer aeration and seeding in Abington that includes: 
A Healthier Turf: Our aeration service enhances turf vitality, ensuring a healthier, greener lawn.
Effective Thatch Removal: Removing excess thatch enables your grass to breathe and thrive.
Quick Results: Experience rapid improvements in your turf's health and appearance.
Long-Lasting Treatments: Enjoy the benefits of improved soil, air, and water circulation for lasting results.
Greater Rooting: Aeration promotes deeper root growth for a more robust and resilient lawn.
Lawn Seeding and Overseeding: We offer both services to ensure your lawn is filled with fresh, high-quality grass seed.
Deeper Nutrient Release: Enhanced aeration enables nutrients to penetrate deep into the soil, nourishing your grass at its roots.
Insect and Mosquito Control in Abington
Are pesky insects ruining your outdoor enjoyment? Say goodbye to these nuisances and regain control of your yard with our comprehensive insect control services in Abington. Our expert technicians will treat your yard every 4-6 weeks, with each treatment lasting 6-8 weeks. We use safe formulations that effectively target pests in your trees, shrubs, and breeding areas. This strategic timing ensures long-lasting protection, eliminating the need for constant treatments.
Our pet-friendly insect control covers a wide range of bugs, including:
Flies
Beetles
Ants
Tree-boring insects
Ticks
Fleas
Mosquitoes
Cicadas
Spotted lanternfly
Aphids
And more.
Don't let bugs disrupt your outdoor haven. Enjoy a pest-free yard from spring to late summer. Contact us today to reclaim your outdoor space and say goodbye to the annoyance of outdoor bugs!