Image
The Best Lawn Care Company in King of Prussia
Lawn Care in King of Prussia
With over 41 years of experience, we are your local experts in creating lush and vibrant lawns. Our commitment to quality and customer satisfaction sets us apart. Here's what you can expect from our comprehensive lawn care services in King of Prussia:
Lawn Care: Our expert team ensures your lawn stays healthy year-round, making it the envy of your neighborhood.
Lawn Fertilization: Tailored fertilization treatments keep your grass green and thriving in all seasons.
Weed Control: Effective solutions eliminate unsightly weeds, restoring your lawn's pristine appearance.
Grub Control: Protect your grass from destructive grubs to maintain its beauty and vitality.
Insect Control: Targeted methods shield your lawn from pests, creating a pest-free outdoor space.
Aeration and Seeding: Enhance root growth and overall turf health for a resilient, lush lawn.
Lawn Renovation and Repair: Restore and revitalize your lawn to its full glory.
Why Choose Greenskeeper?
Choose Greenskeeper Professional Lawn Care Service, Inc for family-friendly and pet-friendly treatments, a 100% satisfaction guarantee, Saturday servicing, and free re-treatments as needed. Let us transform your King of Prussia lawn into a picture-perfect paradise.
Image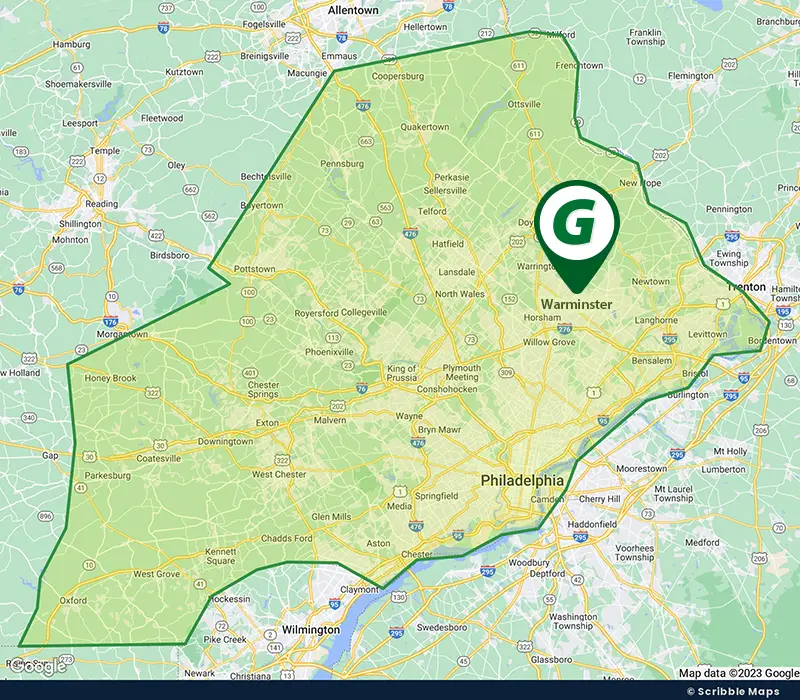 Residential Lawn Care Services in King of Prussia
Unlock the full potential of your outdoor space. Our comprehensive lawn care service is designed to make your lawn the envy of the neighborhood. 
Our lawn care in King of Prussia includes:
Customized Treatment Plans: We begin with a thorough lawn inspection, addressing issues like brown spots and thinning grass to create a tailored plan for your lawn.
Regular Treatments: With 6 treatments a year, your lawn receives the care it needs every 5-6 weeks, ensuring consistent health.
Organic-Based Turf Plant Fertilizer: We use eco-friendly, organic-based fertilizer to promote a healthy lawn that's safe for your family and pets.
Comprehensive Care: Our services encompass lawn fertilization, weed control, grub control, insect control, limestone treatments, and even lawn renovation and repair.
Pet-Friendly Lawn Care: We prioritize the safety of your beloved pets, ensuring our treatments are family and pet-friendly.
Trust our experienced lawn care technicians to transform your King of Prussia lawn into a picture-perfect paradise. Get started today with a free quote! Enjoy the benefits of a beautiful, family-friendly outdoor space.
Lawn Aeration & Seeding in King of Prussia
Experience the transformative power of our lawn aeration service in King of Prussia. Aeration is not just a service; it's a vital step towards achieving a lush and resilient lawn. Here's what sets our aeration service apart:
Promotes Healthier Turf: Aeration removes excess thatch, allowing your lawn to breathe and receive essential nutrients.
Quick Results: Witness the benefits of aeration with quick and noticeable improvements in your lawn's health.
Long-Lasting Treatments: Our lawn aeration service ensures greater rooting, enabling your turf to access deeper nutrient release from soil, air, and water.
Choose Greenskeeper Professional Lawn Care Service, Inc for lawn aeration and seeding in King of Prussia. Let us enhance the vitality of your lawn.
Insect & Mosquito Control in King of Prussia
Don't let pesky bugs ruin your time outdoors. Instead, reclaim your yard and enjoy uninterrupted relaxation with our comprehensive insect control solution, the Bug Barrier Program. In King of Prussia, where the climate and geography create the perfect breeding ground for insects, seasonal protection is essential.
Our insect control service in King of Prussia covers:
Flies
Beetles
Ants
Tree Boring Insects
Fleas
Ticks
Mosquitoes
Cicadas
Spotted Lanternfly
Aphids
And more
Our Bug Barrier Program
With our Bug Barrier Program, our experienced technicians will treat your yard every 4-6 weeks, depending on the weather. Each treatment lasts between 6-8 weeks, ensuring long-lasting protection against pests. We use a safe insect control formulation that targets your trees, shrubs, and critical breeding areas, effectively eliminating bugs and preventing reinfestation.