Image
The Best Lawn Care Company in Warminster
Lawn Care in Warminster
Welcome to Greenskeeper Lawn Service, your trusted local lawn care services in Warminster, PA. With over 41 of experience, we take pride in providing top-notch lawn service to our community. Our mission is to create a beautiful and healthy outdoor space for you and your family to enjoy. Here are the individual lawn care services we offer:
Lawn Care: Our expert team will mow, edge, and trim your lawn to keep it looking neat and well-maintained.
Lawn Fertilization: We use high-quality fertilizers to nourish your grass and promote healthy growth.
Weed Control: Say goodbye to pesky weeds. We'll eliminate them and prevent their return.
Grub Control: Don't let grubs damage your lawn. Our treatments will keep them at bay.
Insect Control: Protect your lawn from damaging insects with our safe and effective treatments.
Aeration and Seeding: Improve soil health and promote lush growth by aerating and seeding your lawn.
Lawn Renovation and Repair: If your lawn needs a complete makeover, we have the expertise to revive it.
Trust in Greenskeeper
At Greenskeeper Lawn Service, we understand the importance of family-friendly and pet-friendly treatments. That's why we use environmentally-conscious products that are safe for your loved ones. We also offer a 100% satisfaction guarantee because your happiness is our priority. 
Image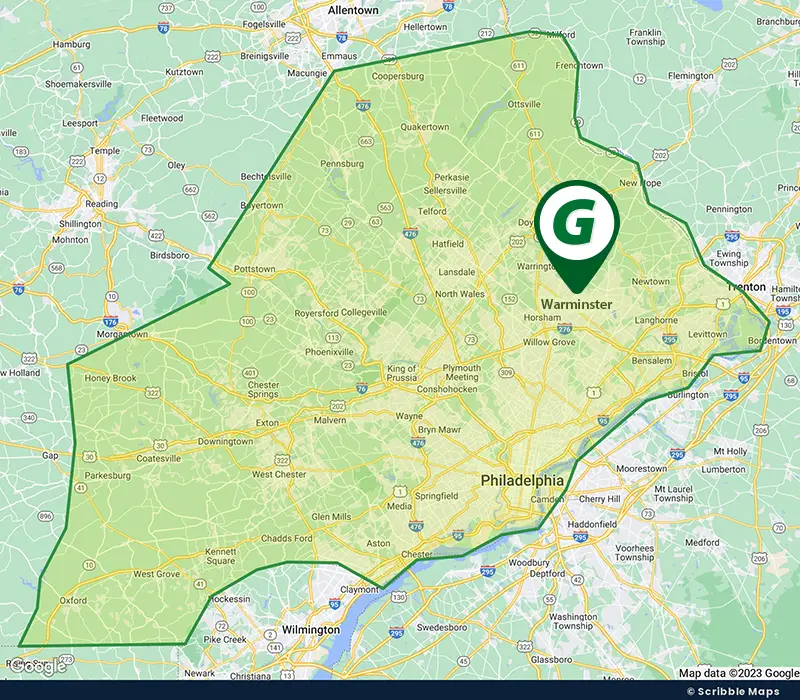 Residential Lawn Care Services in Warminster
Why choose Greenskeeper Professional Lawn Care Service, Inc for your lawn care needs in Warminster? We offer a comprehensive service that transforms your lawn into a lush, healthy paradise. Here's what sets us apart:
Customized Treatment Plans: We start with a thorough lawn inspection, addressing brown spots, thinning grass, and unique issues in your lawn.
Regular Treatments: With 6 treatments a year, your lawn receives care every 5-6 weeks, ensuring consistent health.
Organic-Based Turf Plant Fertilizer: We use eco-friendly, organic-based fertilizer to promote a vibrant and environmentally friendly lawn.
Comprehensive Care: Our services include lawn fertilization, weed control, grub control, insect control, limestone treatments, and even lawn renovation and repair.
Pet-Friendly Lawn Care: We prioritize the safety of your beloved pets, ensuring our treatments are family and pet-friendly.
Choose Greenskeeper Professional Lawn Care Service, Inc for environmentally friendly lawn care in Warminster. Partner with us, and let's make your lawn the envy of your neighborhood.
Lawn Aeration & Seeding in Warminster
Imagine a lackluster lawn with patches of bare soil and thin, yellowing grass struggling to survive. This can be attributed to various factors like the region's climate, scorching heat, heavy foot traffic, and the accumulation of excess thatch. By choosing Greenskeeper Professional Lawn Care Service, Inc for aeration and seeding, you can breathe life back into your lawn.
The importance of aeration and seeding:
Revitalize Your Lawn: Lawn aeration breaks up compacted soil, allowing air, water, and nutrients to reach the roots.
Enhanced Grass Growth: Overseeding introduces fresh, high-quality grass seed, filling in bare patches and promoting denser, healthier turf.
Improved Nutrient Absorption: Aeration and overseeding facilitate deeper nutrient release, ensuring your lawn thrives despite harsh conditions.
Thatch Removal: By removing excess thatch, aeration and seeding prevent suffocation of your grass, promoting robust root development.
Insect and Mosquito Control in Warminster
Warminster's climate and geography make spring and summer the perfect seasons to enjoy the great outdoors. However, the presence of annoying bugs can quickly turn your outdoor gatherings into a battle. Our comprehensive insect control, the Bug Barrier Program, is here to rescue your outdoor space from these pesky intruders. Say goodbye to the constant annoyance and hello to uninterrupted enjoyment!
Our insect control service in Warminster includes:
Flies
Beetles
Ants
Tree Boring Insects
Fleas
Ticks
Mosquitoes
Cicadas
Spotted Lanternfly
Aphids
And more
Bug Barrier Includes Mosquito Control!
Our technicians treat your yard every 4-6 weeks, adapting to Warminster's ever-changing weather. Each treatment lasts between 6-8 weeks, beginning around Memorial Day, providing long-lasting protection. We use a safe insect control formulation that effectively targets trees, shrubs, and breeding areas. Best of all, our insect control package also includes mosquito control!