Insect Control in the Philadelphia Metro Area
Enjoying your yard should be a pleasure, not a battle against annoying bugs. From beetles to ants and everything in between, insects can quickly disrupt outdoor gatherings and relaxation. Wouldn't it be wonderful if you could tackle them all at once? With our comprehensive insect control, our Bug Barrier package, you can do just that. Say goodbye to the constant annoyance and reclaim your outdoor space for uninterrupted enjoyment.
Our pet-friendly insect control in Philadelphia includes coverage against:
Flies
Beetles
Japanese beetles
Ants
Tree boring insects
Ticks
Fleas
Mosquitoes
Cicadas
Spotted Lanternfly
Aphids
And more
The Bug Barrier Process
With Bug Barrier insect control, our technicians will treat your yard every 4-6 weeks depending on the weather. Additionally, each treatment lasts between 6-8 weeks. At Greenskeeper Professional Lawn Care Service, Inc, we use a safe insect control formulation that works effectively on your trees, shrubs, and those critical breeding areas. Timing these treatments correctly ensures long-lasting protection, so you don't have to treat your property every other week. Let us take care of the bugs while you enjoy your outdoor space worry-free!
Our treatment timeline includes:
Spring, before Memorial Day
Summer, before the Fourth of July
Late Summer, before Labor Day
Our Treatment Includes Tree & Shrub Care Too!
What's great about our insect control is that it also includes protection against insects that could damage your trees and shrubs. All of our Bug Barrier program includes tree & shrub fertilizing injections and insect injections, making sure your ornamentals are healthy and look great too. Our certified arborists are able to identify what's damaging your trees and shrubs, and then bring them back to life.
Say Goodbye to the Spotted Lanternfly
The spotted lanternfly has become an all-too-common menace in the Philadelphia area. These invasive pests are known for the havoc they wreak on local trees, plants, and agriculture. They feed voraciously on a wide range of plant species, causing severe damage that includes wilting, sap depletion, and increased susceptibility to disease. Luckily, Greenskeeper Professional Lawn Care Service, Inc offers effective treatment options to combat these destructive insects. Our dedicated team can help protect your property from the spotted lanternfly's devastation, ensuring your outdoor spaces remain healthy and vibrant. 
Why Choose Greenskeeper?
When it comes to insect control, Greenskeeper Professional Lawn Care Service, Inc stands out as the top choice in the industry. With over 41 years of experience, we bring unmatched expertise to the table. We're so confident in our treatments that we offer free re-treatments if necessary, ensuring your complete satisfaction. Our pet-friendly treatments prioritize the well-being of your furry friends. Plus, our commitment to using the latest technology and techniques delivers more effective results, giving you a bug-free, worry-free outdoor experience. Trust Greenskeeper for insect control that exceeds expectations and keeps your outdoor spaces comfortable and pest-free.
Image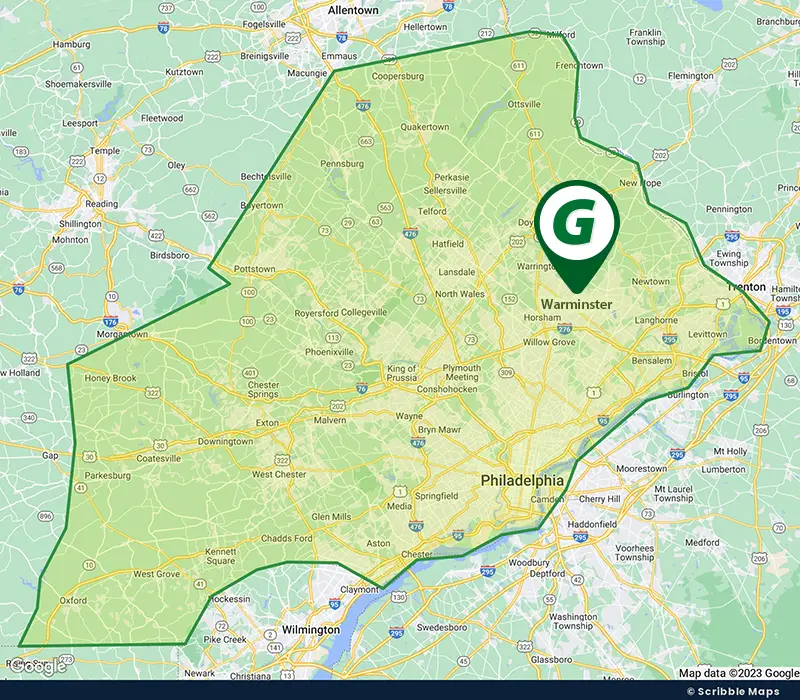 Areas We Service in the Philadelphia Metro Area
As a locally owned lawn care company, we're proud to service all counties that surround Philadelphia. Check out each page to find your city.