Image
The Best Lawn Care Company in Blue Bell
Lawn Care in Blue Bell
Elevate your lawn's health and beauty with Greenskeeper Professional Lawn Care Service, Inc, your trusted partner for professional lawn care in Blue Bell. With over 41 years of experience, we offer a range of expert services tailored to your lawn's unique needs. 
Our lawn care in Blue Bell includes services such as:
Lawn Care
Lawn Fertilization
Weed Control
Grub Control
Insect Control
Aeration and Seeding
Lawn Renovation and Repair
Why Choose Greenskeeper
Our family-friendly and pet-friendly treatments come with a 100% satisfaction guarantee. Plus, we offer Saturday servicing and free re-treatments. Join us in creating a beautiful, resilient lawn. Experience the best in local lawn care services with Greenskeeper Professional Lawn Care Service, Inc!
Image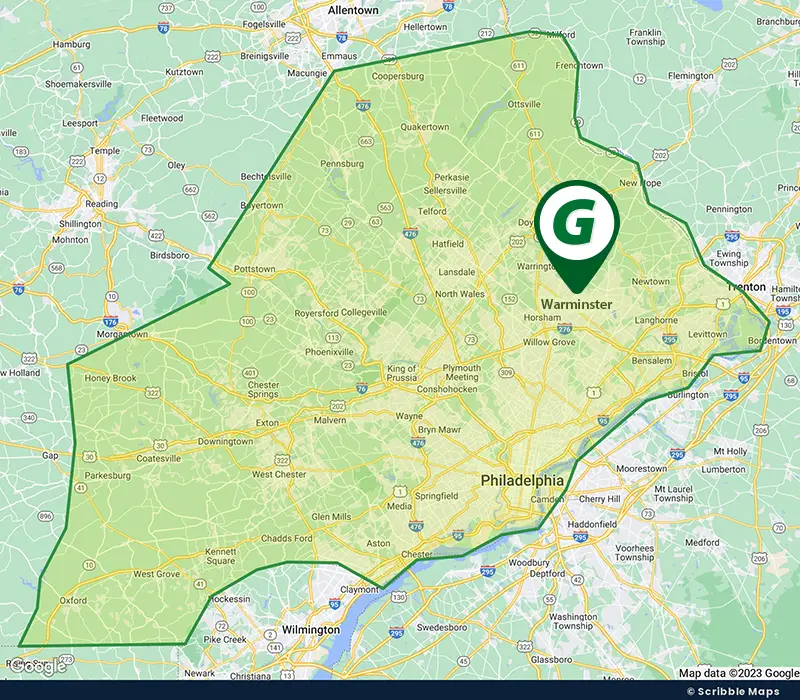 Residential Lawn Care Services in Blue Bell
Are you looking for the best professional lawn care services in Blue Bell? Look no further! At Greenskeeper Professional Lawn Care Service, Inc, we are dedicated to providing exceptional lawn care that will make your outdoor space the envy of the neighborhood.
Our comprehensive lawn care in Blue Bell includes:
Lawn Fertilization: We provide tailored fertilization treatments to keep your grass green and thriving, even in the diverse seasons.
Weed Control: Say goodbye to unsightly weeds as we implement effective weed control solutions that restore your lawn's pristine appearance.
Grub Control: Protect your grass from destructive grubs with our proven grub control techniques, preventing damage to your beautiful lawn.
Limestone Treatments: We offer specialized limestone treatments to balance your soil's pH levels, promoting optimal grass growth.
All of our lawn care packages include a customized treatment plan, 6 treatments a year ever 5-6 weeks, eco-friendly treatments safe for your family and pets, and free re-treatments unsatisfied. 
Lawn Aeration & Seeding in Blue Bell
For a vibrant and healthy lawn, aeration and seeding are essential steps. Our team at Greenskeeper Professional Lawn Care Service, Inc understands the transformative power of these services and is here to help you achieve the lawn you've always dreamed of. After your core aeration service, you'll also need to overseed—this way, your grass can grow now that it can receive the full nutrients it's supposed to! Lucky for you, we're here to help with our aeration and overseeding service in Blue Bell.
The benefits of aeration and overseeding include:
Improved Soil Aeration: Enhances oxygen, nutrient, and water penetration into the soil.
Healthier Root Growth: Promotes robust and deep root development for a resilient lawn.
Thicker Grass: Fills in bare spots and increases grass density for a lush lawn.
Weed Suppression: Denser grass naturally reduces weed growth.
Disease Resistance: Strengthens your lawn's ability to fend off common diseases.
Enhanced Appearance: Boosts your lawn's curb appeal with a vibrant, green landscape.
Reduced Soil Erosion: Stronger grass roots help prevent soil erosion, preserving your landscape.
Drought Tolerance: Develops a lawn that can withstand dry spells more effectively.
Pest Control Efficiency: Maximizes the effectiveness of pest control treatments.
Sustainable Landscaping: Promotes sustainability with minimal herbicide use.
Insect & Mosquito Control in Blue Bell
Say goodbye to pesky ants, lanternflies, and mosquitoes with our comprehensive insect and mosquito control service in Blue Bell! Our Bug Barrier package is designed to eliminate all bugs plaguing your yard at once so that you don't have to schedule more than one service at a time. With our treatments beginning around Memorial Day, you can rest assured that our technicians will have your yard bug-free all summer long. 
Our insect and mosquito control service in Blue Bell will also treat:
Flies
Beetles
Ants
Tree Boring Insects
Fleas
Ticks
Mosquitoes
Cicadas
Spotted Lanternfly
Aphids
And more