Aeration and Seeding in the Philadelphia Metro Area
In the Philadelphia metro area, aeration and seeding are not just optional lawn care services—they are essential steps to achieving a vibrant and healthy lawn. Aeration allows much-needed oxygen, nutrients, and water to penetrate the soil, promoting robust root growth and overall turf health. Seeding, on the other hand, replenishes your lawn with fresh, high-quality grass seed, filling in bare spots and ensuring a lush, green landscape. Don't underestimate the transformative power of aeration and seeding—they are the keys to a thriving, resilient lawn.
We at Greenskeeper Professional Lawn Care Service, Inc are here to help! We have over 41 years of experience, and we guarantee we can provide you with a lawn you love. Contact us today to get started!
Core Aeration in Philadelphia
When soil becomes compacted, it hinders root development, making it challenging for water and nutrients to reach the roots. Over time, this leads to slower growth, thinning grass, and potential stagnation. That's why each lawn needs core aeration! 
The Benefits of Core Aeration
Our aeration, typically offered from Labor Day until around November 1 (weather permitting), includes the removal of 4-4.5 inch plugs from your turf. Additionally, it helps alleviate these issues by improving soil aeration and fostering a healthier, more robust lawn, ensuring your investment in water and fertilizer is put to effective use.
Additional benefits of core aeration includes:
Enhanced Nutrient Absorption:Aeration allows essential nutrients, water, and oxygen to penetrate deep into the soil, feeding your lawn at the root level for superior growth.
Enhancing Oxygen Flow: Allowing oxygen to reach the grassroots, vital for healthy growth.
Reducing Soil Compaction: Breaking up compacted soil to improve water and nutrient absorption.
Minimizing Thatch: Aiding in the decomposition of thatch, preventing it from suffocating your grass.
Promoting Stronger Roots: Encouraging deeper root development for a robust and drought-resistant lawn.
Enhanced Pesticide Efficiency: It maximizes the effectiveness of pest control treatments by ensuring they reach their target destination.
Overseeding Services in Philadelphia
In Philadelphia, overseeding services are a vital component of maintaining a healthy and thriving lawn. Over time, factors like foot traffic, weather conditions, and natural wear and tear can cause grass to thin out and develop bare patches. Overseeding introduces fresh, high-quality grass seed to fill these gaps, promoting a thicker and more resilient lawn. 
The Benefits of Overseeding Your Lawn
At Greenskeeper, we only seed your lawn with Turf Type Tall Fescue mixes, as this specific treatment helps prevents drought, insects, and disease. We'll overseed your lawn typically between mid-August throughout the end of October as soil temperatures are warm, and the cooler air temperatures reduce stress on the young grass seedlings. Additionally, autumn rains provide ample moisture for germination and establishment. Overseeding during this window allows the new grass to establish strong roots before winter and ensures your lawn is ready to flourish come spring,
Investing in overseeding is a simple yet powerful way to transform your lawn into a resilient, beautiful, and sustainable outdoor space. Some of the additional benefits of overseeding include:
Improved Lawn Density: Fill in thinning areas and create a thicker, lush lawn.
Enhanced Grass Varieties: Introduce new, hardier grass types for better resilience.
Better Disease Resistance: Strengthen your lawn's ability to fend off common diseases.
Seasonal Adaptability: Ensure your grass thrives year-round, regardless of weather changes.
Weed Suppression: Denser grass naturally reduces weed growth, minimizing the need for herbicides.
Drought Tolerance: Develop a lawn that can withstand dry spells more effectively.
Enhanced Curb Appeal: Boost your property's aesthetics with a vibrant, healthy lawn.
Reduced Soil Erosion: Stronger grass roots help prevent soil erosion, preserving your landscape.
Image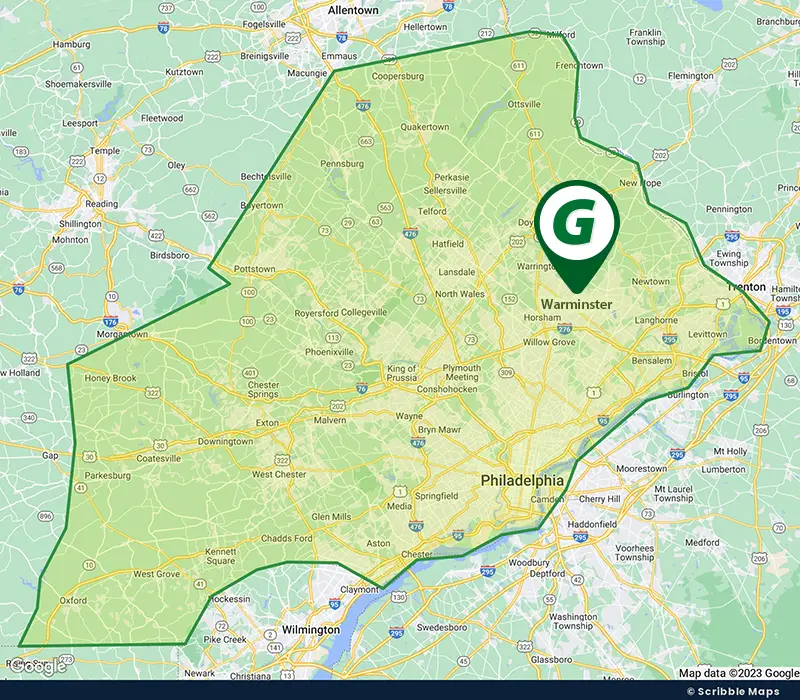 Areas We Service in the Philadelphia Metro Area
As a locally owned lawn care company, we're proud to service all counties that surround Philadelphia. Check out each page to find your city.