Lawn Care in Philadelphia
Are you ready to unlock the hidden potential of your outdoor space? At Greenskeeper Professional Lawn Care Service, Inc, we're dedicated to providing the best professional lawn care services in the Philadelphia metro area, allowing you to truly enjoy the beauty of the outside world. 
Our comprehensive lawn service offerings are designed to make your lawn the envy of the neighborhood:
Lawn Care: Our expert team takes pride in maintaining the lushness and vibrancy of your lawn, ensuring it stays healthy year-round.
Lawn Fertilization: We provide tailored fertilization treatments to keep your grass green and thriving, even in the diverse seasons of Philadelphia.
Weed Control: Say goodbye to unsightly weeds as we implement effective weed control solutions that restore your lawn's pristine appearance.
Grub Control: Protect your grass from destructive grubs with our proven grub control techniques, preventing damage to your beautiful lawn.
Insect Control: Our targeted insect control methods shield your lawn from pests, ensuring your outdoor space remains pest-free and enjoyable.
Limestone Treatments: We offer specialized limestone treatments to balance your soil's pH levels, promoting optimal grass growth.
Why Trust Greenskeeper?
Choose Greenskeeper Professional Lawn Care Service, Inc for family-friendly and pet-friendly treatments that prioritize your loved ones' safety. We back our services with a 100% satisfaction guarantee, ensuring your peace of mind. Additionally, we accommodate your busy schedule with Saturday servicing options and provide free re-treatments as needed. Trust us and our 41 years of experience to transform your lawn into a picture-perfect paradise.
Experience the Best in Environmentally Friendly Lawn Care in Philadelphia Metro Area!
With Greenskeeper Professional Lawn Care Service, Inc, you're not just getting a lawn care technician; you're getting a partner in achieving a vibrant, thriving lawn. Join our environmentally friendly lawn care program today, and enjoy the benefits of a beautiful, family-friendly outdoor space.
With our lawn care services, you can expect:
Customized Treatment Plans: We start with a thorough lawn inspection to address brown spots, thinning grass, and any issues unique to your lawn.
Regular Treatments: With 6 treatments a year, your lawn gets the care it needs every 5-6 weeks.
Organic-Based Turf Plant Fertilizer: We use eco-friendly, organic-based fertilizer to promote a healthy lawn.
Comprehensive Care: Our services include lawn fertilization, weed control, grub control, insect control, and limestone treatments.
Pet-Friendly Lawn Care: We prioritize the safety of your beloved pets, ensuring our treatments are pet-friendly.
Get started today with a free quote!
Weed Control in Philadelphia
At Greenskeeper Professional Lawn Care Service, Inc, we're dedicated to providing effective weed control tailored to the common persistent weeds in Philadelphia, PA. We'll treat for common weeds such as winter annuals, summer annuals, crabgrass, nutsedge, creeping Charlie, and more. Here's what our service includes:
Environmentally-Friendly Weed Treatments: We use EPA-approved herbicides for eco-conscious weed removal that's safe for your family and the environment.
Year-Round Weed Control: Enjoy a weed-free lawn all year with our ongoing monitoring and treatments.
Comprehensive Weed Treatment: Our services cover all aspects, from lawn weed service to bed weed control, using pre-and-post emergent treatments to prevent weeds from germinating.
Don't let weeds overrun your beautiful lawn. Choose Greenskeeper Professional Lawn Care Service, Inc for top-notch weed treatment and lawn spraying services. Say goodbye to stubborn weeds and hello to a pristine, weed-free lawn!
Lawn Fertilization in Philadelphia
Your lawn deserves the best care, which is why we offer tailored fertilization programs to keep it vibrant throughout the seasons. Here's why lawn fertilization is essential and how it can prevent lawn diseases:
Spring Fertilization: Kickstart the growing season with essential nutrients that promote lush, green grass.
Late Spring Fertilization: Maintain the momentum by feeding your lawn the nutrients it craves as the weather warms up.
Fall Fertilization: Prep your lawn for the winter months while fortifying its resistance to diseases.
Fertilization isn't just about aesthetics; it's a critical part of lawn health. By nourishing your grass, you create a robust defense against various lawn diseases, ensuring your outdoor space remains beautiful and disease-free. Choose our expert lawn fertilization service in the Philadelphia Metro Area for a lawn that thrives year-round!
The Benefits of Partnering with Greenskeeper 
When you choose Greenskeeper for your lawn care program, you're gaining access to a wealth of benefits:
Over 50 years of experience, ensuring unparalleled expertise in lawn care.
Enjoy peace of mind with our commitment to free re-treatments, ensuring your satisfaction.
We prioritize your family's well-being with our family and pet-friendly treatments.
Our team undergoes ongoing training to stay current with the latest industry innovations.
No contracts required, giving you flexibility and control over your lawn care.
We offer Saturday services, making it convenient to schedule maintenance at your convenience. 
Image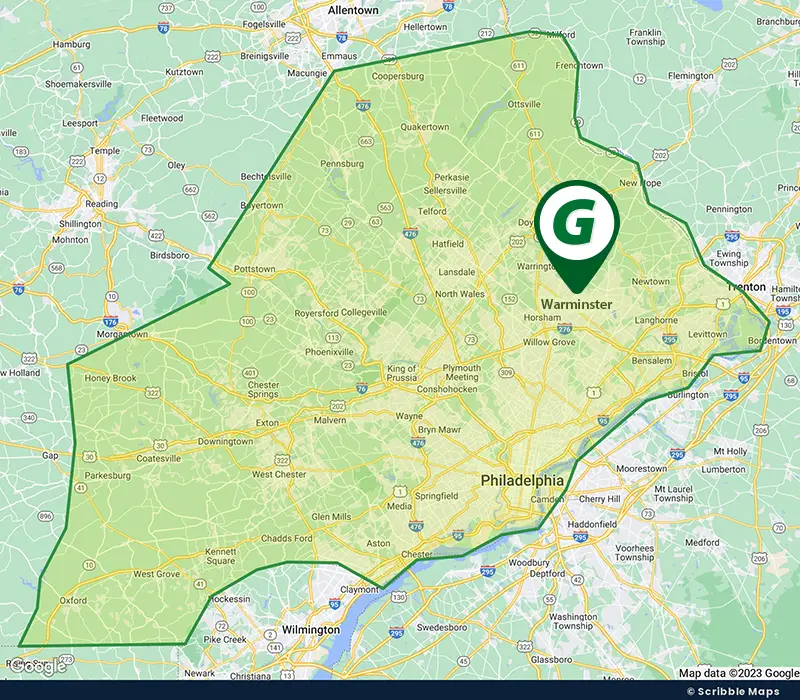 Areas We Service in the Philadelphia Metro Area
As a locally owned lawn care company, we're proud to service all counties that surround Philadelphia. Check out each page to find your city.