Image
The Best Lawn Care Company in Lansdale
Lawn Care in Lansdale
Choose Greenskeeper Professional Lawn Care Service, Inc for our family-friendly and pet-friendly treatments, a 100% satisfaction guarantee, Saturday servicing, and free re-treatments as needed. With over 41 years of experience, we take pride in being your local lawn care experts. Our commitment to quality and customer satisfaction sets us apart.
Our comprehensive lawn care services in Lansdale include:
Lawn Care: Our expert team ensures your lawn stays healthy and beautiful year-round.
Lawn Fertilization: Tailored fertilization treatments keep your grass lush and green throughout every season.
Weed Control: Our effective solutions eliminate unsightly weeds, restoring your lawn's pristine appearance.
Grub Control: Protect your grass from destructive grubs and maintain its beauty and vitality.
Insect Control: Our targeted methods shield your lawn from pesky insects, ensuring your outdoor space remains pest-free and enjoyable.
Aeration and Seeding: Enhance root growth and overall turf health for a resilient, vibrant lawn.
Lawn Renovation and Repair: Restore and revitalize your lawn to its full glory.
Image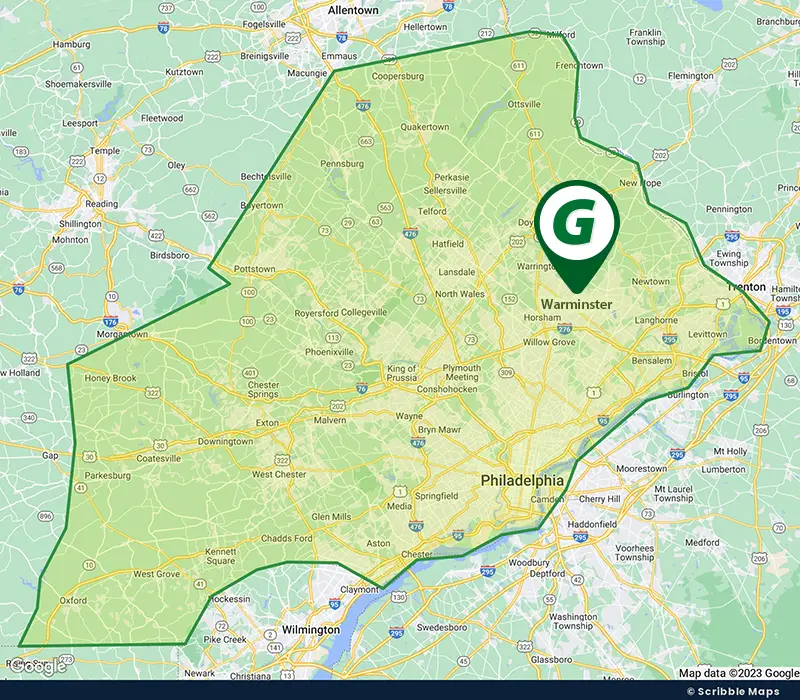 Residential Lawn Care Services in Lansdale
Maintaining a healthy and vibrant lawn is not just about aesthetics—it's a testament to your commitment to a beautiful outdoor space. At Greenskeeper Professional Lawn Care Service, Inc, we understand the importance of lawn care in Lansdale, and we've been serving the community for over 41 years. Our experience and dedication to customer satisfaction make us the ideal choice for your lawn care needs.
With our environmentally friendly lawn care in Lansdale, you can expect:
Customized treatment plans that address issues like brown spots and thinning grass
6 treatments a year, spaced every 5-6 weeks
Organic-based turf plant fertilizer
And more
Trust our team of expert lawn care technicians to ensure your lawn thrives with our pet-friendly treatments and achieve the lush, healthy lawn you desire.
Lawn Aeration & Seeding in Lansdale
When soil becomes compacted, it hinders root development, making it challenging for water and nutrients to reach the roots. Over time, this leads to slower growth, thinning grass, and potential stagnation. That's why each lawn needs core aeration!
With our lawn aeration in Lansdale, your grass can experience:
Enhanced Nutrient Absorption: Aeration allows essential nutrients, water, and oxygen to penetrate deep into the soil, feeding your lawn at the root level for superior growth.
Enhancing Oxygen Flow: Allowing oxygen to reach the grassroots, vital for healthy growth.
Reducing Soil Compaction: Breaking up compacted soil to improve water and nutrient absorption.
Minimizing Thatch: Aiding in the decomposition of thatch, preventing it from suffocating your grass.
Promoting Stronger Roots: Encouraging deeper root development for a robust and drought-resistant lawn.
Enhanced Pesticide Efficiency: It maximizes the effectiveness of pest control treatments by ensuring they reach their target destination.
Overseeding in Lansdale
Overseeding services are a vital component of maintaining a healthy and thriving lawn. Over time, factors like foot traffic, weather conditions, and natural wear and tear can cause grass to thin out and develop bare patches. Overseeding introduces fresh, high-quality grass seed to fill these gaps, promoting a thicker and more resilient lawn.
Some of the additional benefits of overseeding in Lansdale include:
Improved Lawn Density: Fill in thinning areas and create a thicker, lush lawn.
Enhanced Grass Varieties: Introduce new, hardier grass types for better resilience.
Better Disease Resistance: Strengthen your lawn's ability to fend off common diseases.
Seasonal Adaptability: Ensure your grass thrives year-round, regardless of weather changes.
Weed Suppression: Denser grass naturally reduces weed growth, minimizing the need for herbicides.
Drought Tolerance: Develop a lawn that can withstand dry spells more effectively.
Enhanced Curb Appeal: Boost your property's overall appearance and make a lasting impression.
Insect & Mosquito Control in Lansdale
During spring and summer, you want to spend time outdoors with your friends and loved ones. Nothing makes the experience more insufferable than buys flying around your face or crawling on you. That's why at Greenskeeper Professional Lawn Care Service, Inc, we offer comprehensive insect control services in Lansdale. With our Bug Barrier packages that include treatments every 6-8 starting around Memorial Day, you can rest assured that your yard will be bug-free.
Our insect and mosquito control services in Lansdale include protection from:
Flies
Beetles
Ants
Tree Boring Insects
Fleas
Ticks
Mosquitoes
Cicadas
Spotted Lanternfly
Aphids
And more
Mosquito Control is Included with Bug Barrier
Our insect control includes mosquito control as well! That way, there are fewer treatments in order to save valuable time and money spent, and your family can stay protected from mosquito-borne diseases such as west nile virus, Zika virus, and more.